Please click here to view our latest monthly newsletter!  We hope you enjoy it. September 2021 - Itching ...
READ MORE...

→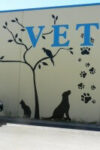 Please choose from our newsletter archive to view previous editions: September 2021 - Itching for allergy info? August ...
READ MORE...

→
Mira Mar Veterinary Hospital is proud to be named
corporate sponsor for the Albany
Community Hospice
Albany Community Hospice provides expert palliative care to all in the Great Southern with incurable illness.
Please visit their website or Facebook page for more information.
Mira Mar Vets are in a professional working
relationship with the Head to Tail Pets
Shop in Albany.
As a member of the Pet Industry Association of Australia, Head to Tail Pets strives to provide excellent advice on pet care,and most importantly will only source animals from a reputable breeder.
Please click to visit the Facebook page or the website of Head To Tail Pet Shop.
Mira mar has been my pets vet for all of their 7.5 hears of their lives. They could not have been more helpful and carring. Many thanks to all the staff. I recommend them very highly to my friend's. Thank you! Maggie Ann Robinson